Veteran & Military Students
Thank you for your service. Now let us serve you. At Belmont College, we're committed to helping military veterans and their families transition from active duty to student life and successful careers. We value the qualities of leadership, maturity, dedication, and responsibility you exhibit, and we're often able to award college credit for your experience.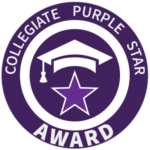 Belmont College is proud to be designated a Collegiate Purple Star institution. The Purple Star Award recognizes schools showing a significant commitment to students and families connected to our nation's military.
See the checklist and links below for information on how to enroll at Belmont and take full advantage of the benefits available to you.
Veteran Student Enrollment Checklist
Other resources
Local veterans services offices can help you in many ways, possibly including medical and living expenses. Contact your county's office to find out more.
Learn to use your GI Bill benefits and programs, and learn how the Post-9/11 GI Bill, Montgomery GI Bill, REAP and MGIB-SR can help you reach your education goals. The term GI Bill refers to any Department of Veterans Affairs education benefit earned by members of active duty, Selected Reserve and National Guard armed forces and their families. The benefit is designed to help service members and eligible veterans cover the costs associated with education or training. Each GI Bill program is administrated differently, depending on your eligibility and duty status.